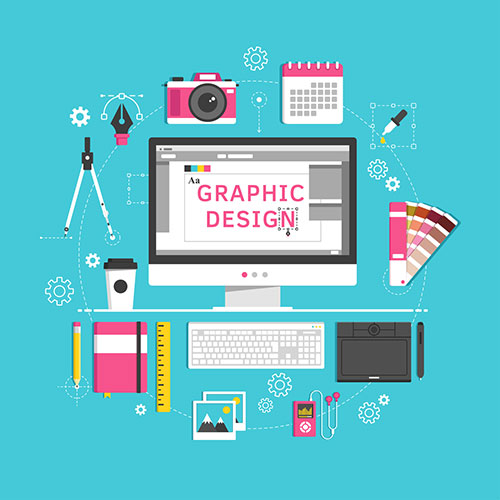 Graphic Design Services in Mumbai
You can't imagine what you can get designed at SEO Aim Point Web Solution Private. If you are looking for a new impressive logo or amazing brochures, SEO Aim Point Web Solution Private Limited is the perfect answer. SEO Aim Point Web Solution Private Limited prides itself on its top notch graphic designers who provide simply the best graphic services in Mumbai, India.
SEO Aim Point Web Solution Private Limited is a graphics design company in Mumbai, India that makes significant inquiries about how, what, why and who of your business with the end goal to represents a fundamental value in graphic design. Culture, patterns and business activities are incorporated into our very own graphic design strategies so as to provide clarity and a triumphant visual experience to all your graphic design needs.
Being the leading Graphic Design Company in Mumbai, India, we focus on the quality, the best design attributes and consistency in solutions and performance. We undertake design tasks to solve and eliminate marketing and branding issues, and build a uniform appearance in your company's graphic design projects.
Our graphic designers in Mumbai, India can come up with an unbeatable graphic design solution for you, be it for a logo, business cards, info graphics, eBooks, Twitter backgrounds, Facebook cover photos and so on. SEO Aim Point Web Solution Private Limited have hired the best graphic designers with a degree in graphic design and talent to qualify the best art institutions in India. Our graphic design services include, but not limited to:
Logo & Graphic Design
Professional Printing Services Available
User Interface Design (UI)
Website Homepage Design (PSD)
Work with New or Existing Branding
Poster Design
Motion Graphics
Print Design
PowerPoint Presentation and Visualization, and so on.
There is huge a competition out there is the every sphere of businesses. It is more than important to make first impression, communication and relationship in a better way with your potential clients to fulfill the objectives of your business. This is something that makes the task of creating a professional image and eye-catching materials an important part of marketing strategy. Our team of highly experienced graphic designers in Mumbai, India can come up with a unique graphic solution that will help you remain ahead of your competitors.
SEO Aim Point Web Solution Private Limited, the leading graphic design company in Mumbai, India offer effective, stunning and intelligent graphic design solution that would appeal your clients certainly. Please feel free to contact us for any inquiries. We would be glad to address your inquiries to the best of our capability.
Interested In Our Service? Let's Discuss!
Testimonials
I was frustrated as my company had some negative links on Google. I hired SEO AIM POINT for ORM and in quick time they outranked my negative links in Google. Now, I can say I am satisfied in my business and it is just because of their ORM services. I will hire them in near future for any other services.
I searched over Google and came across this Website design and web development company in Mumbai and feeling great after getting my business website in just 25 days. They have brilliant developers who understands the market demand. Cheers!
Hi friends, I hired SEO AIM POINT for App development and I was amazed to get fantastic, world class services by their app developers. They are amazing in their business.
I would like to share my personal experience with SEo AIM POINT here. I hired them for SEO and in just 5-6 months, they ranked my training website on top of the Google. I will strongly recommend this SEO Company in Mumbai.