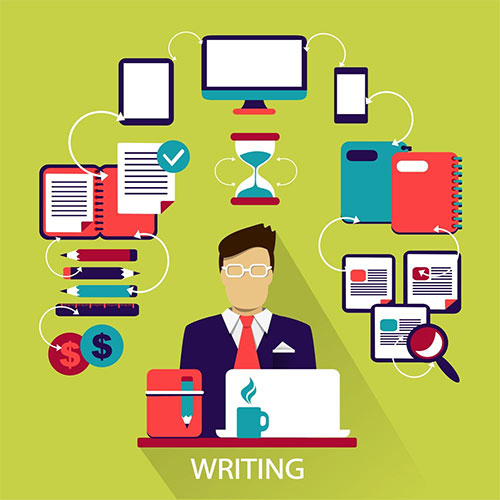 Content Writing Services in Mumbai
Good content has the power to enhance the conversion rate of your business, a ranking of your website on SERP, and flourish your business. A content that has been written well can drive more attention to your business and help you sale more. After all, sales are what that matters the most at the end of the day.
The contents on your website should not just be a linear arrangement of words. It should be written in such a way that it represents the core value of your business, interact with your website visitors, present them with what they are looking for. This is where you need to hire professional content writing services in Mumbai.
SEO Aim Point Web Solution Private Limited offers unmatchable content writing services at an affordable price to all sorts of businesses and individuals. Our content writing services in Mumbai can deliver a high-quality and unique piece of content tailored to your specific needs. Your web presence requires a content writer that recognizes the requirements of both ends of the rainbow: you and your customers.
Being the leading provider of content writing services in Mumbai, we can provide you with such a content that will grab the attention of your target audience instantly and keep them engaged, and invite them to take actions on your website that you want them to take for the benefit of your business. The contents written by our content writers in Mumbai can help you achieve the desired output.
With our content writing services in Mumbai you will:
Increase organic search engine traffic to your website
Improve your website conversion rate
Create a positive buzz on social networking websites
Get more subscribers for your newsletter
Improve the overall quality of your content
Ultimately, grow your business significantly
A person visiting your website, be it a direct visit, through search engines, or through reference, is not only in search of the right information but also the information that can influence them to do business with you. If the contents of your website are not good enough, you are missing a big piece of the pie. Thus, you are ought to hire professional content writing services in Mumbai. A well-written content can provide you with an opportunity to remain ahead of your competitors.
Why Hire Our Content Writing Services in Mumbai
Easily scalable
Access to a global talent pool
Easy to change service
Business takes care of your business
Much cheaper than hiring an in-house team of content writers
Availability of a broad range of talents and experiences
If you want to create a reliable partnership to have a more practical approach to writing articles and content, our internal team of content writers in Mumbai can help you. Feel free to reach us for any inquiries without any hesitation.
Interested In Our Service? Let's Discuss!
Testimonials
I was frustrated as my company had some negative links on Google. I hired SEO AIM POINT for ORM and in quick time they outranked my negative links in Google. Now, I can say I am satisfied in my business and it is just because of their ORM services. I will hire them in near future for any other services.
I searched over Google and came across this Website design and web development company in Mumbai and feeling great after getting my business website in just 25 days. They have brilliant developers who understands the market demand. Cheers!
Hi friends, I hired SEO AIM POINT for App development and I was amazed to get fantastic, world class services by their app developers. They are amazing in their business.
I would like to share my personal experience with SEo AIM POINT here. I hired them for SEO and in just 5-6 months, they ranked my training website on top of the Google. I will strongly recommend this SEO Company in Mumbai.