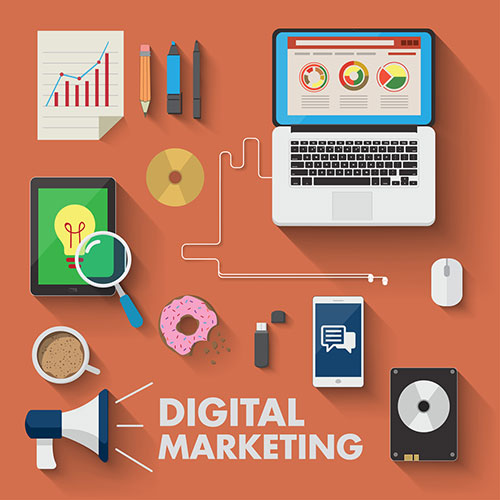 Best Digital Marketing Company in Mumbai
Owing to the fact that more than 80% of the shoppers begin their process of shopping by searching for products over the Internet. We, as a leading digital marketing company in Mumbai believe that it is important to have a strong digital presence on the internet. This is where hiring a professional digital marketing services comes in handy.
Is it easy for your potential customers to locate your products and services that you deal in?  Are you able to hit the soft corner of your customers and make them take action that would be beneficial for your business? In the event that you have answered no, or you are not certain about the same, we can help you reach your target audience by creating a cost-effective digital marketing strategy and by providing your target audience with the right message at the right time, quite appealing enough to make them take an action profitable for your business.
SEO Aim Point Web Solution Private Limited have a decade of expertise in the domain of offering Digital Marketing Services in Mumbai. Digital marketing experts at SEO Aim Point have noteworthy skill in comprehending your client's journey, from awareness to take it into account, to purchase.
Being the leading digital marketing company in Mumbai, we can come up with such a digital marketing strategy that will help you build an easy-to-find and exciting experience that motivates action, attract individuals to make purchase, and enable them to refer your brand to their friends and personal organization.
Let's accept the fact that the present online marketplace is more competitive than any other time. As a business owner, hiring digital marketing agency in Mumbai is a must for you that comprehends your customer's journey as well as knows how to develop an online marketing strategy that can make your brand the best answer to all your customers need.
Our efficiency-based digital marketing services in Mumbai can help your business achieve its most ambitious goals, from conversion improvement to brand awareness. We can help you help you drive more leads, increase your reach, improve your website experience, engage your target audience, connect with your clients, and that's just the beginning.
SEO Aim Point Web Solution Private Limited is a full-fledge digital marketing company in Mumbai, which means we offer everything from SEO to conversion analysis.
A few example of the digital marketing services that we offer include:
Search Engine Optimization
Pay-Per-Click Advertising
Content Marketing
Social Media Management
Conversion Rate Optimization
ORM
Bulk SMS
Copywriting
Website Design and Development
App Development etc.
In the event that you are looking for a digital marketing company / partner that can handle all the digital marketing activities on your behalf for your business, or you are looking for someone who can design and develop a website for you, SEO Aim Point Web Solution Private Limited can help.?
So, call today for FREE consultation and making a plan on how to improve your business in very low budget.
Digital Marketing FAQ's
Check Our Awesome Portfolio
Interested In Our Service? Let's Discuss!
Testimonials
I was frustrated as my company had some negative links on Google. I hired SEO AIM POINT for ORM and in quick time they outranked my negative links in Google. Now, I can say I am satisfied in my business and it is just because of their ORM services. I will hire them in near future for any other services.
I searched over Google and came across this Website design and web development company in Mumbai and feeling great after getting my business website in just 25 days. They have brilliant developers who understands the market demand. Cheers!
Hi friends, I hired SEO AIM POINT for App development and I was amazed to get fantastic, world class services by their app developers. They are amazing in their business.
I would like to share my personal experience with SEo AIM POINT here. I hired them for SEO and in just 5-6 months, they ranked my training website on top of the Google. I will strongly recommend this SEO Company in Mumbai.